Description
The TruDetx™ Bed Bug Rapid Test is here to revolutionise your approach to bed bug inspections. Say goodbye to the hassle and uncertainty of traditional methods. With this cutting-edge, science-based test, uncovering bed bug infestations has never been easier or faster.

Science-Based Precision
Experience the power of science at your fingertips. Our rapid test boasts an impressive accuracy rate of over 90%*, ensuring you can trust the results every time.

Swift and Simple
No more complicated procedures or lengthy training sessions. With its user-friendly design, anyone can perform a test in minutes. Swab, activate, and detect – it's as simple as that.

Actionable Insights
Discover even the sneakiest infestations that elude conventional detection methods. Our test equips you with the knowledge you need to take immediate action and protect your space.

Discreet and Compact
Worried about guest or tenant concerns? Don't be. The TruDetx™ Bed Bug Rapid Test is discreet and compact, ensuring minimal disruption. Its small size means you can carry it effortlessly.

Rapid Results
Time is of the essence when it comes to bed bugs. Detect bed bug residue in just five minutes, allowing you to act swiftly and decisively. Upgrade your bed bug inspections with the TruDetx™ Bed Bug Rapid Test. Detecting and eliminating bed bugs has never been this efficient and stress-free. Get started today and experience the future of pest control!

*Accuracy based on internal testing.
TruDetx™ is used for the detection of a possible bed bug infestation or to validate the end of the infestation 90 days after the curative action.
Key Benefits:
- A revolutionary new tool to detect the presence of bed bugs
- Detects infestations with certainty before the first signs of presence
- A tool scientifically tested and more than 92% effective*
- Simple to use and easy to carry
- Fast results, ready in just 5 minutes
*Ko, Alexander & Choe, Dong-Hwan. Development of a lateral flow test for the detection of bed bugs. Scientific Reports 10:13376 (2020).
How the lateral flow strips work: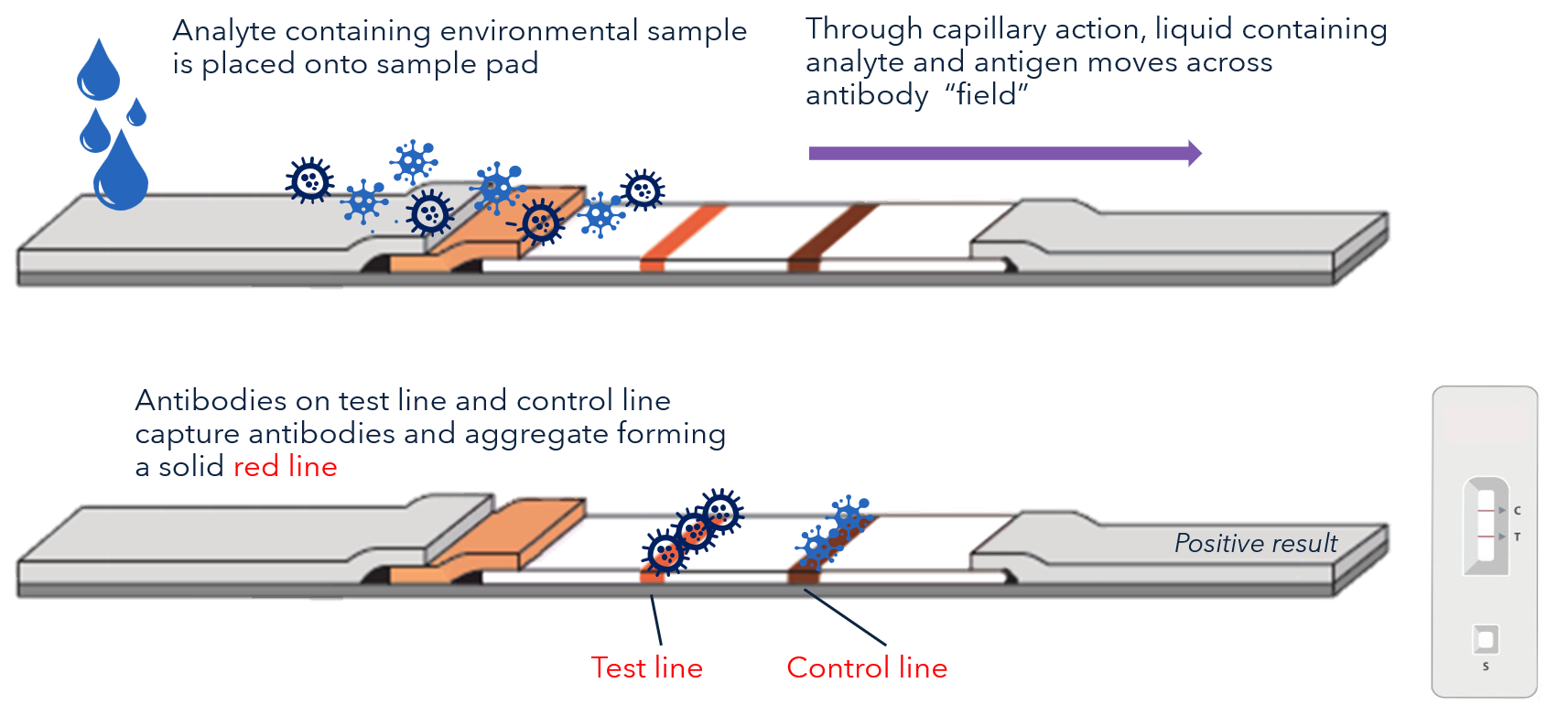 Best Practices:
Possible use before treatment and then 90 days after the end of treatment.
Test in bedbug living areas, in places identified during the diagnostic phase where bedbugs are likely to feed, (i.e. where occupants sleep for more than 30 minutes).

Application Rate & Delivery:
This brand new bed bug detection device will quickly and accurately determines if bed bugs are present on any surface and in any environment.
The bed bug detection device is comprised of two components:
Collection swab
Reader
The test is a simple lateral flow strip and works exactly like a COVID-19 self-test 
It is a one-time use test and has a 92% accuracy rate
The test takes approx. 6 minutes
How to use:
1. Remove swab from holder and use the soft end to  collect residues from the mattress and other sleeping  areas where bed bugs hide (mattress piping,  headboard, drawers, lounge chairs, etc.).
2. Return swab to holder with the soft end facing down. Break  solution seal by bending the stem until it snaps. Release liquid by squeezing the bulb. Gently agitate for 15 seconds to  soak the swab.
3. Remove white cap from end of the swab. Squeeze the bulb to place 4 drops into the well.  Wait 5 minutes to see the results

4. The results:

1 line indicates bed bug residues are not present
2 lines indicate that bed bug residues are present
Payment & Security
Your payment information is processed securely. We do not store credit card details nor have access to your credit card information.